Special One-Time Spa Promotion
For limited time, get your FREE Onsen Pass worth S$80+ when you book any 90 minutes of
massagefacial
The BEST Luxury Spa in the World, not just Singapore!
This is not just another spa promotion. Ikeda Spa is proud to have won many local awards, but this time, we're excited to announce that we are a Global Winner in the World Luxury Spa Awards for 3 consecutive years since 2014. We have been crowned the world's Best Luxury Day Spa after a rigorous nomination and voting process!
Ikeda Spa Prestige, which opened only in 2013, beat 30 day spas nominated from a list of more than 10 countries, including Singapore, Thailand, Indonesia, Australia, France and the United Kingdom.
Hinoki Onsen - The Only True Japanese Bathing Ritual in Singapore
Public Communal Hinoki Onsen
What is Hinoki Onsen?
Hinoki, also known as Japanese Cypress, is one of the most prized quality of wood in Japan. It is used to build palaces and temples which last for 1000 years. Hinoki wood contains natural bactericidal agents so it resists to mold and insects. It doesn't fear humidity and does not rot. This is why Japanese love their Hinoki Onsen bath.
What are benefits of Hinoki Onsen?
Hinoki Onsen, when in contact of hot water, produces Hinoki wood oil that is highly therapeutic: it contains minerals and essential oils such as Thiol. It is used as raw materials for soaps, antiseptics, perfumes, cosmetics, and hair restoration treatments. While resins from other evergreens are known for causing skin irritations, hinoki wood oil is gentle on the body and skin. It is traditionally used to treat skin irritations and injuries due to its antibacterial and antifungal action. When inhaled, hinoki wood oil acts as a decongestant of the respiratory system that is used to cure asthma and other nervous system ailments. For this reason, Hinoki wood oil is also widely used in aromatherapy to reduce stress.
How hot is Hinoki Onsen?
It is usually around 42 degrees Celsius but can vary due to the weather temperature. It is not recommended to stay in the bath for an extended period of time – ten to fifteen minutes is the norm. Basically, if you feel light-headed, get out and cool down with cold water shower before getting back in. Remember to stay hydrated and replenish your system once you get out – there is a water dispenser in the onsen room for this purpose.
Private Couple Hinoki Onsen
What to bring to Hinoki Onsen?
Nothing. You will be provided with one bath towel, one wash towel, one set of yukata (japanese bath robe) and disposable underwear (if you do not wish to go in the hinoki onsen naked). If you need additional bath towel, just request from our friendly therapists. It is free!
What water is used in Hinoki Onsen?
The water is infused with mineral-rich onsen bath salts extracted from 7 different famous hot spring sites in Japan. The public communal Hinoki Onsen is filled with the bathsalt from Noboribetsu, arguably the most popular hot spring in Hokkaido. You have the options to select from other hot springs if you choose to go with private couple Hinoki Onsen.
Is Hinoki Onsen mixed-gender?
Our public communal Hinoki Onsen is single gender, not mixed. The bath timing schedule is Women : Mon, Wed, Fri, Sun (afternoon) Tue, Thu, Sat (evening); Men: Mon, Wed, Fri, Sun (evening) Tue, Thu, Sat (afternoon). If you are uncomfortable to share the bath with strangers, you can always opt for our private couple Hinoki Onsen (available with $40 or $60 surcharge).  
A Walkthrough in Ikeda Spa Prestige
Try Our Signature Treatments
Zen Candle Massage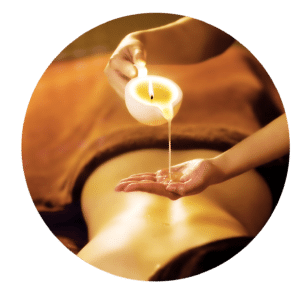 Voted the Best Tension Relieving Massage in Elle Beauty Treat List 2016. This massage therapy uses melted soy wax candle as an element to kneads out muscle knots and provide intense rejuvenation!
Save $80 for Free Onsen Pass
Claim Your Free Onsen Pass
Ganbanyoku Detox Massage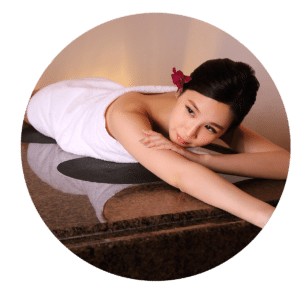 Voted the Best Detox Massage in Her World Spa Awards 2016. Indulge in a good sauna and detoxifying massage at the same time on Hakone volcanic hot stone bed. Do you know that 60 minutes of this is equivalent to running 15km?
Save $80 for Free Onsen Pass
Claim Your Free Onsen Pass
Most Popular
Geisha Organic Facial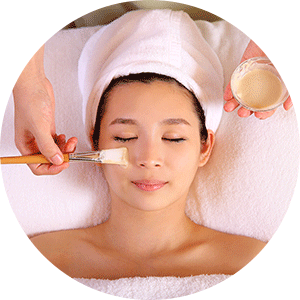 Voted the Best Revitalising Facial by CLEO Body Awards 2016. Its secret ingredient is uguisu no fun (nightingale droppings), an unusual ingredient raved about by Victoria Beckham for its brightening effect.
Save $80 for Free Onsen Pass
Claim Your Free Onsen Pass
Available at both outlets
What Our Customers Have to Say
VIP Couple Suite at Clarke Quay

Communal Hinoki Onsen at Clarke Quay

Relaxation Lounge at Clarke Quay

Couple Hinoki Onsen at Clarke Quay

Zen Garden at Bukit Timah

VIP Couple Suite at Bukit Timah

Tea Waiting Area at Bukit Timah

Single Hinoki Onsen at Bukit Timah
A cosy experience at Bukit Timah
Ikeda Spa located at Bukit Timah offers a quaint sanctuary away from the hustle and bustle of town. Zen-inspired interiors and personalised spa services transform Ikeda Spa into a home away from home for urbanites.
A luxurious getaway at Clarke Quay
Ikeda Spa Prestige at Clarke Quay teleports you to exquisite ryokans. Immerse in an oasis of calm, and restore balance to your body, mind and soul at this luxurious five-star spa destination.
Book any 90 minutes treatment and get your FREE Onsen Pass worth $80+
TERMS & CONDITIONS
Valid from 1st January 2019 until 31st December 2019
Complimentary Onsen valid with 90-minute ala carte treatment, for 1st time customers of Ikeda Spa only
Hinoki Sento Onsen at Ikeda Spa Prestige @ Clarke Quay outlet only
Hinoki Single Onsen at Ikeda Spa @ Bukit Timah outlet only
Valid for local residents of Singapore only. Proof of local residency for verification is required
Cannot be used in conjunction with other discounts, cash and/or treatment voucher, promotion or spa packages
Non-refundable and not exchangeable for cash once it is purchased
Promotion is not applicable for gift certificate purchase
Reservations are required and subject to availability
Credit card information must be provided in order to secure the spa booking
A 24 hour cancellation notice is required, otherwise charges apply
Public Communal Hinoki Onsen Bath Schedule as follows :-

Women : Mon, Wed, Fri, Sun (afternoon) Tue, Thu, Sat (evening)
Men: Mon, Wed, Fri, Sun (evening) Tue, Thu, Sat (afternoon)
How to Take the Japanese Bath
Enter your email address below to download the onsen etiquette guide