Spa Deals Singapore – Autumn Spa Series
Immerse Yourself in Japan Autumn
Ikeda Spa brings the autumn mood of Japan to Singapore just for you. Indulge and pamper yourself to a tension-busting spa session inspired by Autumn Maple Leaves.
Appreciate More Than Just Beauty of Maple Leaves

Maple leave is more than just aesthetically appealing, but it also contains tremendous skin benefits. It is packed with high anti-oxidant to aid in skin regeneration while radiating the skin with a healthy glow.
Destress with Autumn Maple Leaves

The Autumn Destresser Spa Series is perfect when you need an uplifting and tension relieving spa session to relax and retreat from the concrete jungle.
Begin your spa session by soaking in your preferred choice of Onsen for 30 minutes that is filled with abundance benefits to improve blood circulation and soothe muscle tension. Continue the pampering spa session with a Maple Leaf Aromatherapy Massage for 90 minutes. This massage uses a combination of Eastern and Western massage techniques with the highest grade of Japanese Maple Leaf essential oil. Expect a rejuvenated self, while bringing your state of mind to pure relaxation through maple aroma.
Now only at a promotional price of $198+, save more than 30% on this Autumn Destresser Spa. Available only at Bukit Timah Branch.
Retreat in The City with Autumn Maple Leaves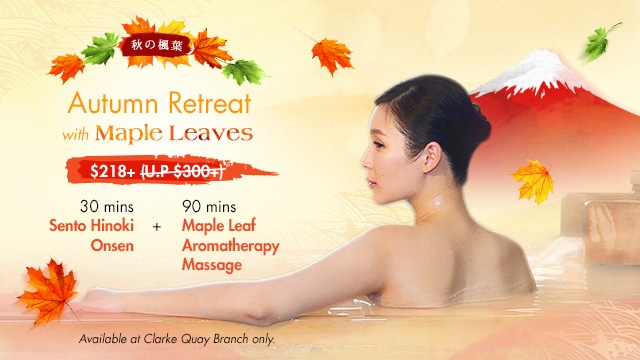 The Autumn Retreat Spa Series features a Sakura Aromatherapy Massage and Sento Hinoki Onsen for an ultimate rejuvenating experience.
Begin the retreat by soaking in Singapore's first ever public Sento Hinoki Onsen. Founded in 2013 at Ikeda Spa Prestige, the soporific bath helps to relax sore and tensed muscles with the aid of the Hinoki essential oil that releases from the onsen tub. Pamper yourself with a Maple Leaf aromatherapy massage and ease away all muscle tension.
Now only at a promotional price of $218+, save 27% on this Sakura Spa Retreat. Available exclusively at Clarke Quay Branch.
---
Looking for a Couple Retreat?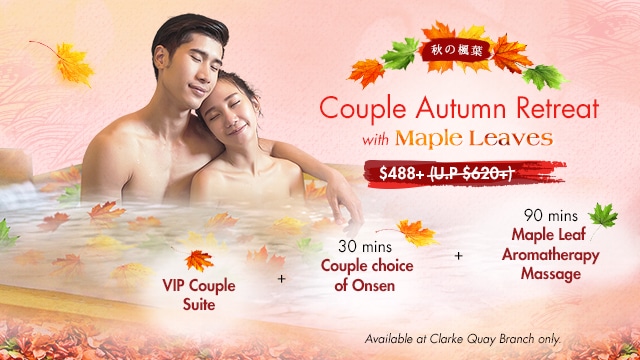 Couple Autumn Spa series is perfect for bringing loved ones together for a spa rendezvous.
Soak in a Couple Hinoki Onsen of your choice for 30 minutes while enjoying the magnificent view of Clarke Quay nightlife. Indulge you and your partner in an ultra-soothing and pampering Maple Leaf Aromatherapy Massage, which is guaranteed to promote deep relaxation.
Now only at a promotional price of $488+ for a 2 hours spa rendezvous. This is probably the best spa deals Singapore. Available exclusively at Clarke Quay Branch.
Don't miss this Autumn Spa Deals Singapore!
Read more »
*Terms & conditions apply
Valid from 1 September until 31 October 2018.
Valid for 1st-time customers of Ikeda Spa or those who have not visited in the past 6 months
Valid for local residents of Singapore only. Proof of local residency for verification is required
Prices do not include 7% GST
Valid for booking at both outlets
Non-refundable and not exchangeable for cash once it is purchased
Reservations are required and subject to availability
Credit card information must be provided in order to secure the spa booking
Members may pay by cash as membership credits are not allowed for this promotion
A 24-hour cancellation notice is required, otherwise charges apply
Sento Hinoki bath schedule as follows:-

Women: Mon, Wed, Fri, Sun (1pm-5pm) Tue, Thu, Sat (5.15pm-9.15pm)
Men: Mon, Wed, Fri, Sun (5.15pm-9.15pm) Tue, Thu, Sat (1pm-5pm)
Probably the Best Japanese Spa in Singapore