Rose-mantic Valentine Spa Promo
Looking For Something Special This Valentine's Day?
Rose – the language of love. This Valentine's Day, Ikeda Spa features a unique limited edition romantic rose spa series to whiff up the scent of love! Expect an array of rosy spa treatments which invoke love and happiness after your session ends. Let the scent of love linger after a sensual Valentine spa co-session.
Rose-mantic Spa Experience For You & Her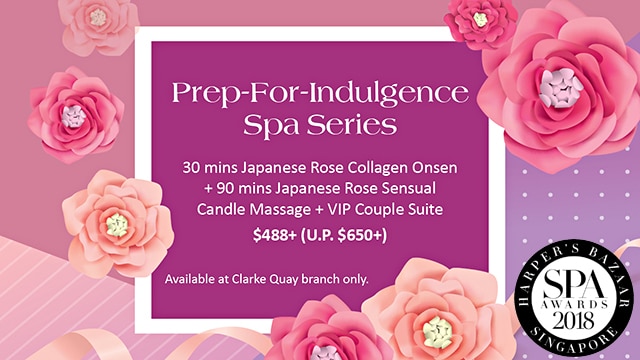 The prep-for-indulgence spa series is perfect for bringing loved ones together for a spa rendezvous.
Our one-month-old Prep-for-Indulgence Spa series has been awarded the Best Couple Spa for 2018! Reward your special him/her to an award-winning spa treat this Valentine's Day.
Begin the spa rendezvous by soaking in the aromatic Japanese rose collagen Hinoki Couple Onsen. Treatment will be done in a private couple's suite while enjoying the magnificent view of the Clarke Quay nightlife. Soak up the benefits of the rose collagen for a smoother and brighter skin while relaxing the mind, body and soul.
Indulge you and your partner in a sensuous Japanese rose sensual candle massage which made use of customised candle which is infused with rose essential oil. Achieve zen and pure relaxation when the therapist works their way to release all the muscle ache, tension and knots to reveal a nourished and brighter skin.
ROSE-MANTIC SPA SERIES
This Valentine's day, we introduce our limited edition rose treatments which feature Japanese Rose Collagen Onsen and Rose Sensual Candle Massage heighten the love in the air!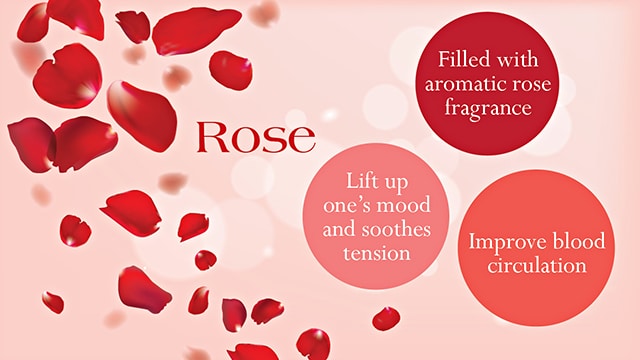 Aromatherapists have used the scent of the rose for its mesmerising aroma and mood-enhancing properties. Rose is thought to increase feelings of love, compassion and devotion. Its nerve-soothing fragrance can combat feelings of stress and fatigue to provide a mood boost and in turn invoke positive thoughts, feelings of joy, hope and spiritual relaxation.
Combined with the benefits of our Hinoki Onsen Bath, this featured spa treatment brings out a natural scent, induces a moisturising veil on the skin and stimulates circulation to enhance the experience of a true Onsen.
---
EXQUISITE PACKAGES TO PREP FOR YOUR PERFECT DATE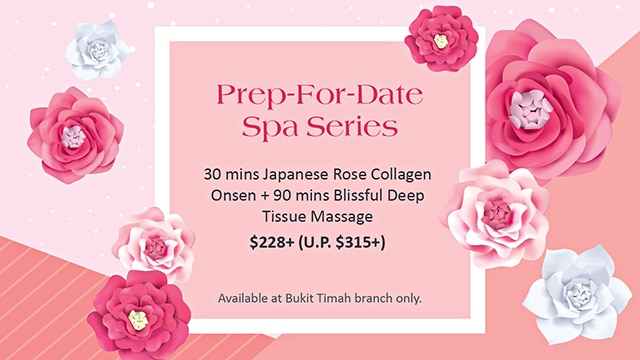 The prep for rose-mantic date spa series is perfect for those who are in need of an uplifting and tension relieving spa session to calm yourself down before meeting your valentine date! This series is exclusively available at Bukit Timah branch only.
Lift off fatigue and stress with this aromatic Japanese rose collagen Hinoki Onsen. At a temperature of 42ºC, this hot bath boosts blood circulation, detoxification and skin regeneration. Besides, rose collagen bath salt nourishes skin and invigorates you with an uplifting aroma.
Continue with a blissful deep tissue massage designed with steady, firm strokes to treat on specific muscle areas of tension and pain. Aids to increase flexibility, accelerate muscle recovery, and relieve soreness due to overexertion.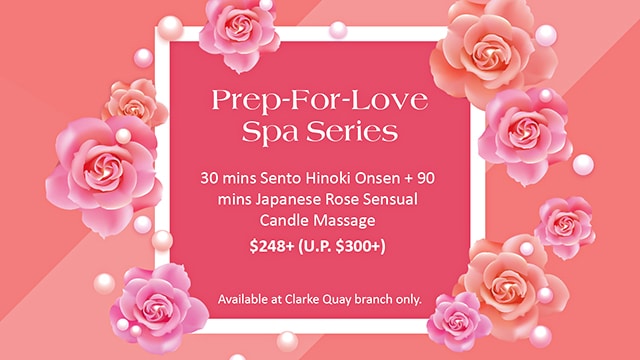 The prep for rose-mantic love spa series is perfect for those who are in need of pampering session before meeting your loved one! This series is exclusively available at Clarke Quay branch only.
Garnering Best Luxury Day Spa award from World Luxury Awards for 4 consecutive years, this second branch features the one and only Hinoki Sento Onsen in Singapore.
Featuring our award-winning Zen Candle Therapy Massage infused with rose essential oil. This massage uses a specially customised candle which liquefies into a vitamin-rich elixir made of sweet almond oils, rich shea, cocoa butter and pure essential oils.  These ingredients are moisture and nourish the skin.
In combination with Eastern-inspired deep tissue massage and soothing Swedish broad strokes, this massage will prompt you into relaxation. Being an award winner for two consecutive years, this is a must-try massage that we highly recommend!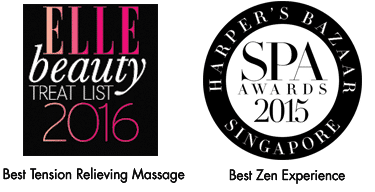 Rekindle love sparkles this Valentine's day with our Rose-mantic Valentine Spa promo series.
DON'T MISS THIS VALENTINE SPA PROMO!
Read more »
*Terms & conditions apply
Valid for 1st time customers of Ikeda Spa or those who have not visited in the past 6 months
Valid from 1 January until 28 February 2018
Valid for local residents of Singapore only. Proof of local residency for verification is required
Promotion is not allowed to be used in conjunction with other discounts, promotion or packages
Prices do not include 7% GST
Non-refundable and not exchangeable for cash once it is purchased
Guest are allowed to request for a new therapist during the first 10 mins of the treatment if unsatisfied with service quality
Reservations are required and subject to availability
Members may pay by cash as membership credits are not allowed for this promotion
Credit card information must be provided in order to secure the spa booking
A 24-hour cancellation notice is required, otherwise charges apply
Communal bath schedule as follows:-

Women: Mon, Wed, Fri, Sun (1pm-5pm) Tue, Thu, Sat (5.15pm-9.15pm)
Men: Mon, Wed, Fri, Sun (5.15pm-9.15pm) Tue, Thu, Sat (1pm-5pm)
Probably the Best Japanese Spa in Singapore