Haru No Niwa Spring Spa Promo
Experience the Best of Japanese Spring Spa Promo
Spring is the most lovely season in Japan where pink cherry blossoms are all over the country and the strawberries are the sweetest. It is the time couples go on Hanami dates and families go strawberry-picking together.
Schedule some spa me-time and get ready for an authentic Japanese Spring experience at Ikeda Spa. From 1 March to 30 April 2019, spa-goers can bloom with a Haru no Niwa (garden in Spring) inspired spa series featuring two special edition treatments – the Strawberry Hinoki Onsen and Sakura-infused Massages.
---
Experience The Japanese Spring Spa Promo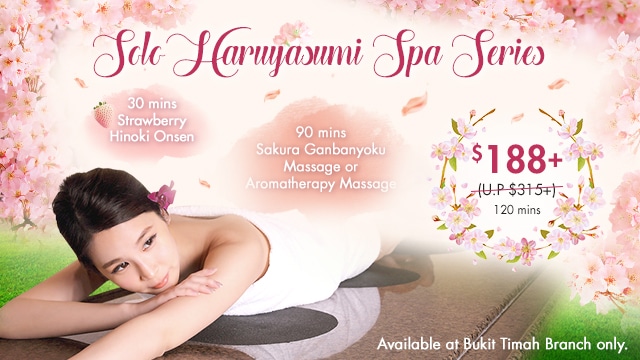 What is a better way to spoil yourself than with this Solo Haruyasumi spa series? Choose this treatment and you can have a 30-minute soak in an antioxidant-rich Strawberry Hinoki Onsen. After that, receive 90 minutes of pure bliss through your choice of massage. You can choose either the Sakura Ganbanyoku Massage or the Sakura Aromatherapy Massage. You are sure to leave feeling relaxed, revitalised and ready for life no matter which type of massage you'll choose!
Book now and enjoy up to 40% savings on this spring spa promo! Available at Bukit Timah branch only.
Zen Out In Japanese Style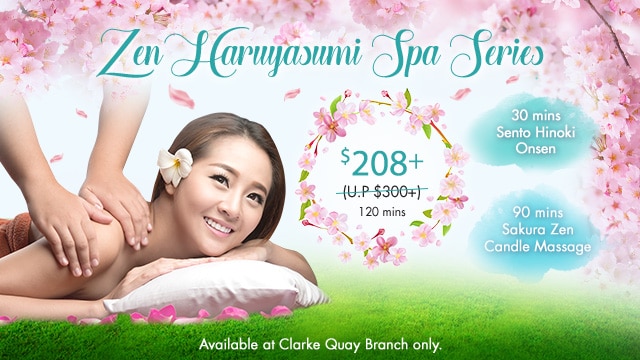 Our Zen Haruyasumi package is perfectly crafted for those seeking to relax while spending some alone time.
Firstly, this zen spa experience begins with a peaceful and relaxing 30-minute dip in the Sento Hinoki Onsen. Our onsen uses Hinoki (a Japanese cypress wood that was once for only royalty), and precious natural mineral oils in it are beneficial for both the skin and psyche. Following suit, a Japan-trained therapist will take you through a 90-minute Sakura Zen Candle Massage that will rid all knots and tension in the body.
Book now and enjoy up to 31% savings on this spring spa promo! Available at Clarke Quay branch only.
---
🍓 Bloom with The Fruit & Flower of Spring! 🌸
This Spring season, we want to introduce our limited edition treatments inspired by the fruit and flower of spring – strawberries and Sakura.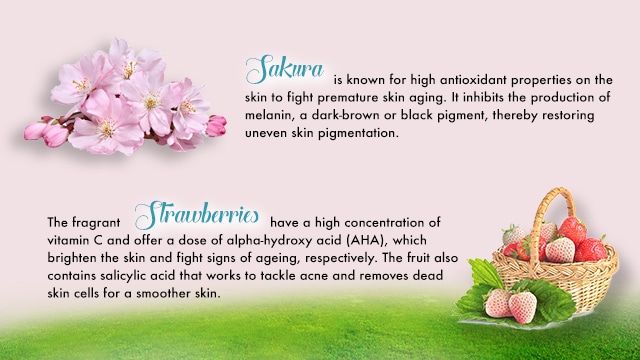 Cherry blossoms or Sakura are rich in anti-oxidant levels and soothing properties. Because it is rich in essential fatty acids too, it can repair the skins natural barriers to promote smooth, supple skin. Also, Sakura is ideal for mature complexions because they contain anti-aging, whitening, and anti-glycation properties which promotes collagen formation in the fibroblasts.
Strawberries, on the other hand, are rich in vitamin C. They are excellent in fighting oily skin, as well as nourishing and revitalizing the skin. Strawberries are acidic in nature and this is effective to remove the excess sebum on skin. The juice is very efficient in lightening blemishes and acne scars too.
---
Perfect Couple Spa Treat
Are you thinking of someone who deserves some pampering? Opt for a spa date set in a luxurious VIP couple suite. First, the ritual will begin with an aromatic Strawberry Couple Hinoki Onsen that will surely invigorate your senses. To top it off, indulge in a 90-minute therapeutic full-body Sakura Zen Candle rubdown that will unfurl knots and melt all tension, leaving you relaxed and refreshed all at once.
Book now and enjoy up to 28% savings on this spring spa promo! Available at Clarke Quay branch only.
DON'T MISS THIS SPRING SPA PROMO!
Read more »
*Terms & conditions apply
Valid for 1st-time customers of Ikeda Spa or those who have not visited in the past 6 months
Valid for booking and redemption from 1st March till 30th April 2019
Valid for local residents of Singapore only. Proof of local residency for verification is required
Promotion is not valid for gift certificate purchases
Prices do not include 7% GST
Valid for booking at Clarke Quay outlet only
Deal offer cannot be utilized for spa voucher purchases.
Non-refundable and not exchangeable for cash once it is purchased
Reservations are required and subject to availability
Credit card information must be provided in order to secure the spa booking
A 24-hour cancellation notice is required. Otherwise, charges apply
Probably the Best Japanese Spa in Singapore