Spring into Sakura Season 2020
Catch the Best of Japanese Spring Spa Promotion 2020
Catch the splendour of the Japanese Sakura and pamper your skin to the best of Japanese Spring spa promotion this 1 March to 30 April 2020. Inspired by all things Sakura, Ikeda Spa has infused two ingredients; Mochi Rice and Cherry Blossoms to whisk you into the mood for Spring.
For April, take an additional 5% discount from the spa series and an extra of three months voucher validity from the date of the purchase.
In Japan, Cherry Blossoms, or Sakura, have been widely celebrated for centuries. Every Spring, from March to mid-April, sometimes even early May, the Japanese welcome its first flush of pink. They rejoice in this iconic time of the year with Hanami or Cherry Blossom Viewing. Friends, family, and colleagues gather and sit under blossoming trees to admire its beauty.
Besides Hanami, the Japanese embrace this season with their Spring delicacies. This includes Sakura Mochi; a light pink Japanese rice cake stuffed with red or white beans. A salted Sakura leaf is wrapped around it for a sweet and salty treat.
---
Experience The Japanese Spring Spa Promotion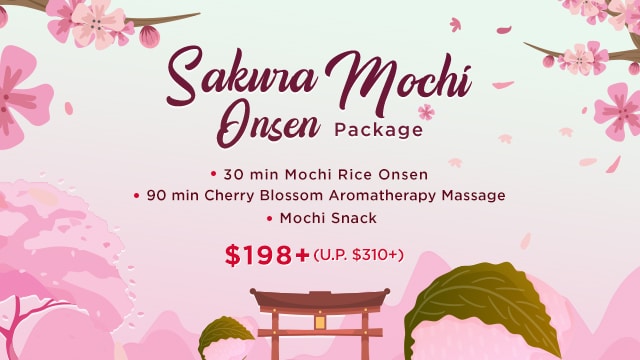 Recharge with a skin-nourishing Sakura Mochi Onsen spa package! Soak in a warm soporific Mochi Rice Hinoki Onsen for 30 minutes, experiencing the combination of Rice and Hinoki and step out with baby soft skin. Continue with a 90-minute tension-relieving Cherry Blossom Aromatherapy Massage that loosens muscle knots. Paired with the cherry blossom essential oil, this massage clarifies uneven skin tone and reduces dark spots.
Unwind with this stress-buster as the skilled masseuse relieves muscle knots to awaken your senses. Book now and enjoy 36% savings with this Spring spa promotion, available at Ikeda Spa (Bukit Timah).
Get Mochi Soft Skin with Spring Spa Promotion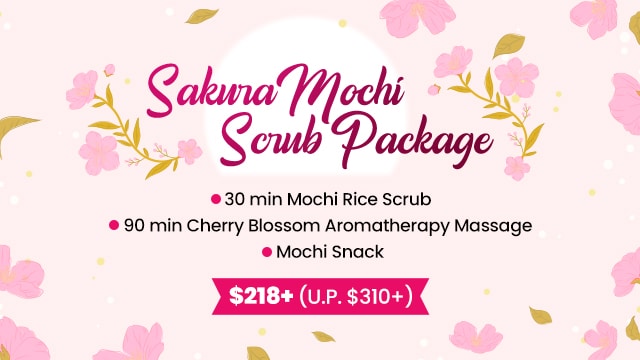 Get glowing with the Sakura Mochi Onsen spa package! Kick-start your session with a 30-minute Mochi Rice Scrub to gently exfoliate dead skin cells and transform any lacklustre complexion to a brighter one.
Following suit, a Japanese-trained therapist will take you through a 90-minute Cherry Blossom Aromatherapy Massage that incorporates the fusion of both Eastern and Western strokes, to get rid of all knots and tensions in the body.
Immerse yourself in this pampering Cherry Blossom spa series to recharge and wind down after a long day. Book now and save up to 29% off this Spring spa promotion.
---
Nourish your skin with Rice and Cherry Blossoms! 🌸
This Spring season, we want to introduce our limited edition treatments; Rice and Cherry Blossoms, inspired by the Japanese traditional custom of Hanami, or flower viewing.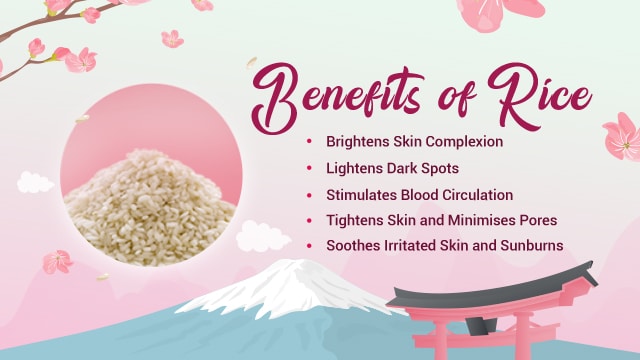 Popular in Japanese cuisine, Rice is a natural skin toner packed with overflowing benefits. It promotes cell growth, stimulates blood circulation, and brightens the skin's complexion. It is enriched with amino acids, which are essential in keeping the skin healthy. It also contains plenty of vitamins and minerals to reduce skin pigmentation and shrink enlarged pores.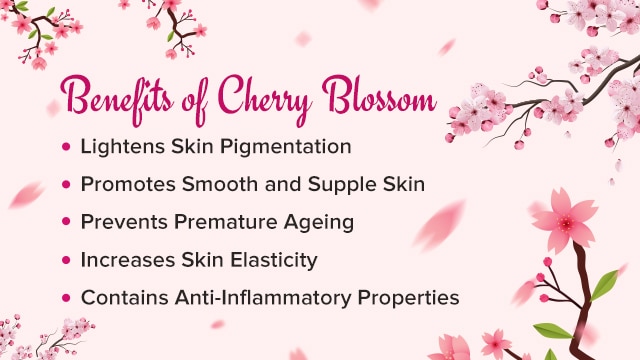 Cherry Blossoms or Sakura are rich in anti-oxidant levels and soothing properties. Because it is rich in essential fatty acids too, it can repair the skin's natural barrier to promote smooth, supple skin. Furthermore, Sakura is ideal for mature complexions because they contain anti-ageing, whitening, and anti-glycation properties which promote collagen formation in the fibroblasts.
---
Perfect Couple Spa Treat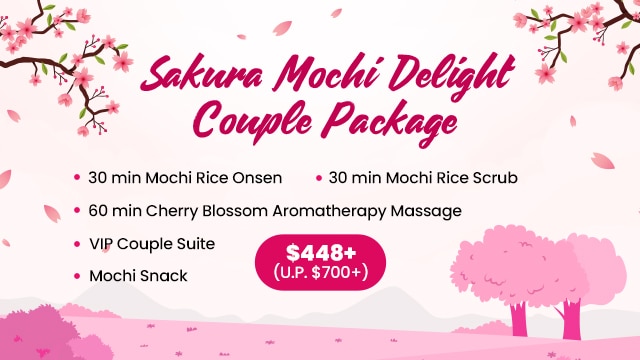 Thinking of someone who deserves some pampering? Opt for a spa date set in a luxurious VIP couple suite! Kick-start this romantic ritual with a Mochi Rice Scrub, followed by an aromatic Mochi Rice Couple Hinoki Onsen that will surely invigorate your senses. To top it off, indulge in a 60-minute therapeutic full-body Cherry Blossom Aromatherapy Massage to rub-down those unfurled knots and melt all tension, leaving you relaxed and refreshed all at once.
Book now and enjoy 36% savings on this Spring spa promotion!
DON'T MISS THIS SPRING SPA PROMOTION!
Read more »
*Terms & conditions apply
Valid for 1st-time customers of Ikeda Spa or those who have not visited in the past 6 months
Valid for booking and redemption from 1st March till 30th April 2020
Valid for local residents of Singapore only. Proof of local residency for verification is required
Promotion is not allowed to be used in conjunction with other discounts, promotion or packages
Promotion is valid for gift voucher purchase with nine months validity from the date of the purchase
Prices do not include 7% GST
Non-refundable and not exchangeable for cash once it is purchased
Guest are allowed to request for a new therapist during the first 10 mins of the treatment if unsatisfied with service quality
Reservations are required and subject to availability
Members may pay by cash as membership credits are not allowed for this promotion
Credit card information must be provided in order to secure the spa booking
A 24-hour cancellation notice is required, otherwise, charges apply
Probably the Best Japanese Spa in Singapore