Christmas Spa Deals – Merry Matcha Christmas!
Celebrate Christmas with Matcha
This Christmas, indulge in the wonders of the Japanese elixir that known as Matcha at Ikeda Spa. Our Matcha Magic Christmas spa deals will be available from now until 31 December 2018. Wrap up your year on the right note with our Matcha Magic Christmas Spa Deals.
Matcha in Japanese Tradition
Traditional Japanese tea ceremonies use matcha as a staple which has anti-aging and detoxing properties in them too. This season, Ikeda Spa is incorporating Matcha and its healthy properties into its Christmas Spa deals.
Moreover, these deals are sure to bring you a beauty and wellness experience unlike any other.
The Perfect Treat this Christmas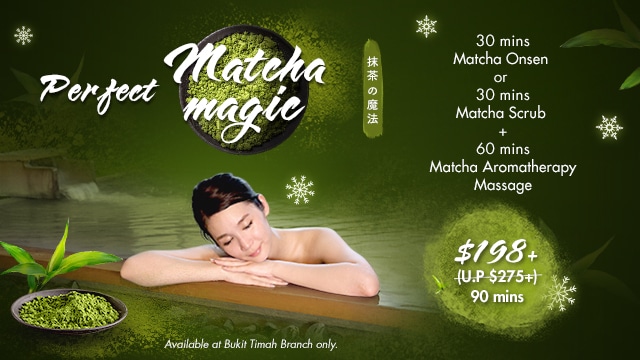 Kick-start your session with a soak for 30-minutes in the Matcha Onsen bath which will fight free-radicals or a 30-minute Matcha anti-aging scrub. This scrub is sure to leave your skin baby soft and smooth with its exfoliant properties.
Finish your treatment with an ultimate fatigue-busting 60-minute Matcha Detox massage to rid off all tension from your body. It will also leave you revitalised and ready for anything that life throws at you.
Now only at a promotional price of $198+, save more than 25% on this Christmas spa deals.
Available only at Bukit Timah Branch.
---
Beauty Secrets of Matcha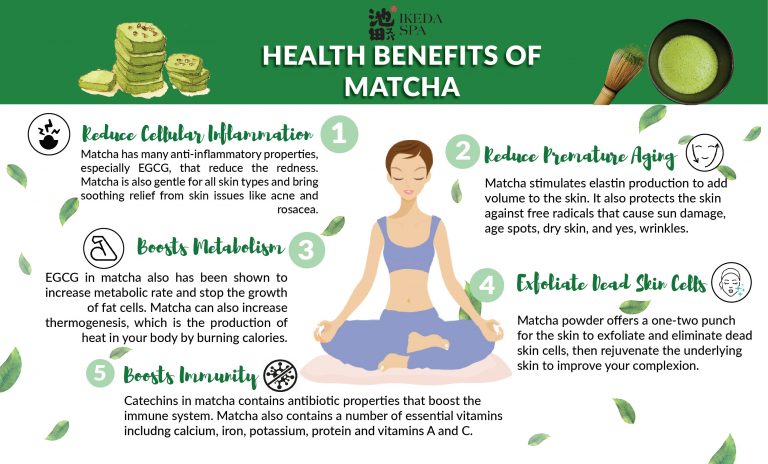 Soak up all the skin benefits from our limited edition Christmas spa deals with up to 30% savings! Pick your Matcha match for the ultimate Christmas spa experience ranging from our Perfect Matcha Magic to these other spa deals below.
---
Christmas Heaven In The City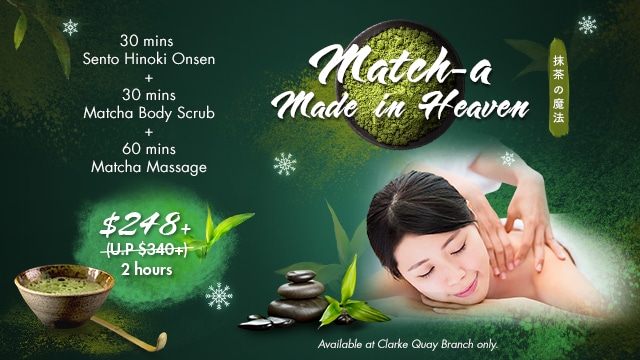 Start-off your session with a tension-easing 30-minute dip in the Sento Hinoki Onsen that melts all your stress away followed by getting your body glowing with a 30-minute anti-aging Matcha body scrub.
Finally, end off with a therapeutic 60-minute head-to-toe Matcha detox rubdown. This massage combines Eastern and Western techniques which coax all tension and leaves you energised.
Now at a promotional price of $248+, save 28% on this Match-a Made in Heaven Christmas spa deals.
Available only at Clarke Quay Branch.
Want To Go On A Christmas Spa Date?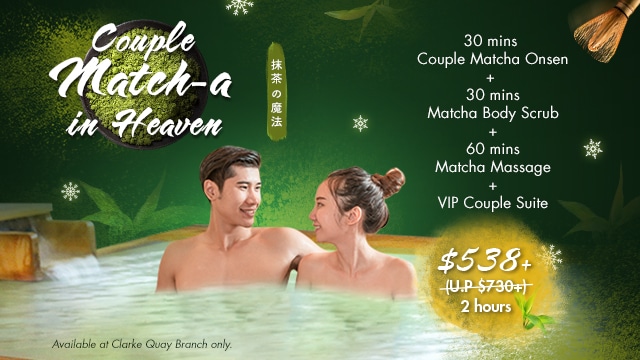 Grab your Matcha mate and prepare to bliss out in a VIP couple suite. Enjoy double the pleasure on your next spa date! Start off by leaving your skin super soft and radiant with a 30-minute anti-aging body scrub.
Also, indulge in a 30-minutes in the couple onsen spiked with antioxidant-rich Matcha. Lastly, defeat all knots and tension with a 60-minute Matcha detox massage.
Now at a promotional price of $538+ for a 2 hours spa rendezvous! This is probably the best Christmas spa deals Singapore.
Available only at Clarke Quay Branch.
---
Sharing the Matcha Love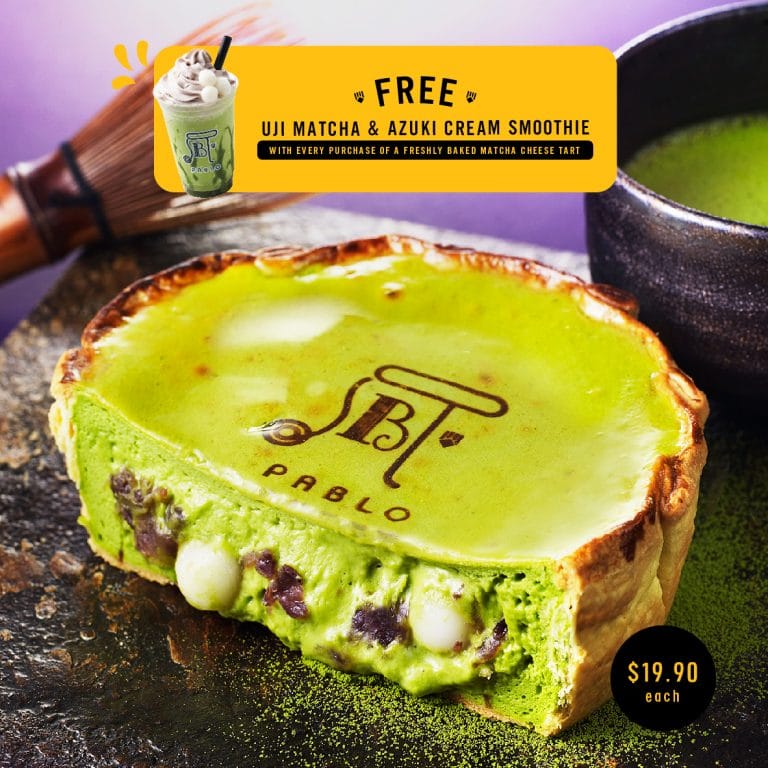 For this year's Christmas spa series, we are collaborating with PABLO Cheese Tarts, a popular cheese dessert brand originating from Osaka famous for their Freshly Baked Tarts with gooey cheese filling!
Receive an e-voucher from us to redeem a free Uji Matcha & Azuki Cream Smoothie* at PABLO Wisma Atria only with any redemption of our Christmas spa series.
*T&Cs apply for the redemption of Pablo Uji Matcha & Azuki Cream Smoothie
Don't miss out on these Christmas spa deals! Book now!
Read more »
*Terms & conditions apply
Valid for bookings and redemption from 1 November until 31 December 2018.
Valid for 1st-time customers of Ikeda Spa or those who have not visited in the past 6 months
Valid for local residents of Singapore only. Proof of local residency for verification is required
Prices do not include 7% GST
Valid for booking at both outlets
Non-refundable and not exchangeable for cash once it is purchased
Reservations are required and subject to availability
Credit card information must be provided in order to secure the spa booking
Promotion cannot be used in conjunction with other discounts, package or promotion
Members may pay by cash as membership credits are not allowed for this promotion
A 24-hour cancellation notice is required, otherwise, charges apply
Sento Hinoki bath schedule as follows:-

Women: Mon, Wed, Fri, Sun (1pm-5pm) Tue, Thu, Sat (5.15pm-9.15pm)
Men: Mon, Wed, Fri, Sun (5.15pm-9.15pm) Tue, Thu, Sat (1pm-5pm)
Probably the Best Japanese Spa in Singapore